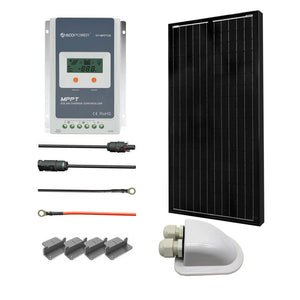 ACOPOWER 100W 12V Mono Solar RV Kits, 20A MPPT Charge Controller (DC)
Regular price
$234.99
Sale price
$229.99
---
KIT DESCRIPTION 
Featured Products
20 AMP MPPT ACOPOWER Charge Controller: ACOPower MPPT Solar Charge Controllers have a peak efficiency of 99.5% and offers user adjustable settings with a TM-50 Remote! The LCD Screen shows, voltage, solar panel status, battery state of charge, and DC load draw. See Image in photo gallery for all LCD Screen readouts. Compatible with lead acid, AGM, gel, and lithium batteries. Max Charge Rate

: 12V/260W,24V/520W 

100 Watt, 12 Volt Monocrystalline ACOPOWER (Black) Solar Panel: All Black Monocrystalline Solar Panel provides 100 Watts (17.48V, 5.72A) continues power with a 15.15% Cell Efficiency. Each solar panel comes with 12AWG cable with MC4 male/female quick connectors.
Common positive grounding design(If your system is common negative grounding design, please contact us before shipping)
Warranty: 25-year transferable power output warranty on panels and 1-year warranty on rest of the kit components
Multiple packages

: 

Order will be delivered in multiple packages
Packing List

(1) 20 Amp MPPT ACOPOWER Charge Controller

(1) 100 Watt Monocrystalline ACOPOWER (Black) Solar Panel

(1) Sets Mounting Z Bracket

(1) PC 30ft 12AWG PV Cable 

(1) PC 8FT 8AWG Tray Cable 

(1) PC Cable Entry Housing
PRODUCT DESCRIPTION 
MPPT 20Amp ACOPOWER Charge Controller
Overview 
Advanced MPPT technology, much more efficient than PWM especially when wiring Panels in "Series", where Voltage increases, because the MPPT technology converts the excess Voltage to Amperage allowing a continuous Wattage output with minimal  energy loss. (Remember: Voltage x Amperage = Wattage)

Features
High tracking efficiency no less than 99.5%
Peak conversion efficiency of 98%
Multi-function LCD displays system information intuitively
Fully adjustable charging and battery parameters via MT-50 remote meter or PC.
User programmable for battery types: Lead-acid, Flood, AGM, Lithium 
Load Control, Timing and Input/Output Graphing.
3-Stage charge with PWM output
Common positive grounding design
RS485 port with industrial standard MODBUS open architecture

Technical Specs
Rated charge current: 20A
Max Charge Rate: 12V/260W,24V/520W 
Max.PV open circuit voltage: 100VDC
Battery voltage range: 8V~32V
Enclosure: IP30

Charge Controller Electronic protections 
PV short circuit protection 
PV reverse polarity protection 
Battery over voltage protection 
Battery over discharge protection 
Battery reverse polarity protection 
Load overload protection 
Load short circuit protection
Overview:
 Monoc
rystalline Solar Panel, provides up to 100 Watts 
(17.48
Vx5.71
A)
 continuous power output. Basic component for your Homestead, Tiny Home and Off-Grid Solar Energy Systems. 
Properties
: Anodized Aluminum Frame, Low-Iron Tempered Glass,  and Waterproof IP-65 Rated Junction Box which all contribute to long term reliable power.
Warranty
: 5 years workshop warranty and 20 years output warranty. Based in California, technical supports and customer service are guaranteed.
Technical Specs
Peak Power (Pmax): 100W
Module Efficiency: 15.15% 
Open - Circuit Voltage(Voc): 22.0V 
Optimum Circuit Voltage(Vmp): 17.48V 
Short Circuit Current(Isc): 6.14A 
Optimum Circuit Current(Imp): 5.71A 
Power Tolerance Range:±3%  
Snow loads resistance: 2400 pa 
Test condition: 1000W/m², AM1.5,25℃
Maximum System Voltage DC: 1000V   
Maximum SeriesFuse/CurrentRating: 10A 

Dimension: 1020x670x35mm (40.2x26.4x1.4 in)
Weigh: 9.5Kg (20.9lbs)
APPLICATION SCOPE
DIY Off-Grid Solar Systems
Homestead, Ranch, or Farm
Tiny Home, Cabin, Tool Shed, Barn, Gazebo 
RV, Camper, Vanlife, Heavy Equipment, 
Trailers, ATV, Boats, Mobil Power Station
Off Grid Utilities (pumps, gates, lights)
Renewable Energy Projects
Small Household/Green House Lights & Fans
Mobile, Portable and Remote Solar Generators 
Weekend Camp Trips or a day at the beach
Tailgate Party, Sport Events, Festivals, Shows 
Farmers Markets, Community Events, Parks

All small power electrical devices & PV systems
RELATED FILES
User Manual(s)
---